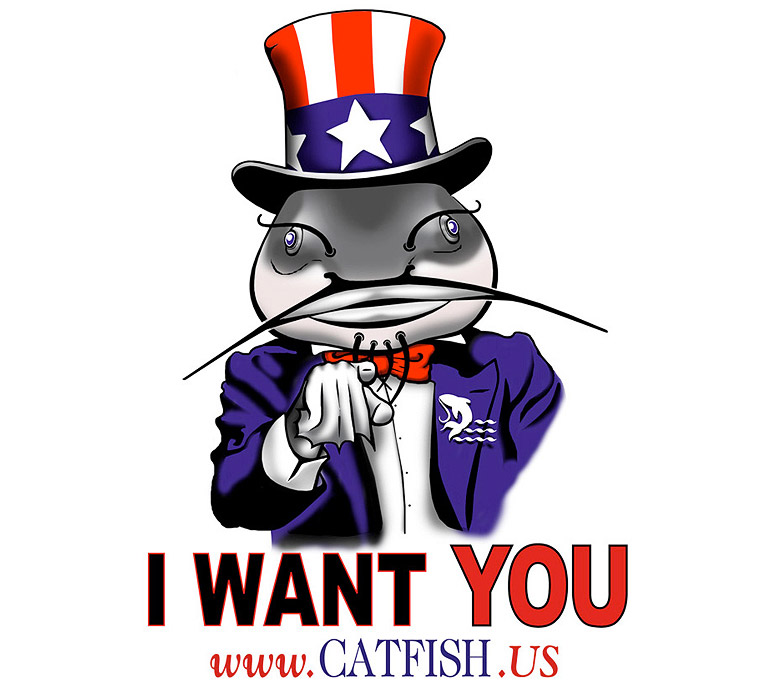 Uncle CAT wants YOU to buy U.S. Farm Raised Catfish
Saturday, August 02, 2014 | Illustration
Buy U.S. Farm Raised Heartland Catfish is what Heartland's 'Uncle Catfish' is trying to tell everyone. Ninety-four percent of all U.S. Farm-Raised Catfish is raised in Alabama, Arkansas, Louisiana, and Mississippi. 'Uncle Catfish' was illustrated as a completely original idea in 2005 to bring awareness to buying U.S. Farm Raised catfish over unknown imported similar river fish products. T-Shirt and Marketing Items were utilized.

U.S. Farm-Raised Catfish is raised in environmentally controlled, clay-based ponds, filled with fresh water pumped from underground wells and filtered by alluvial aquifers. The average pond, constructed by building above-ground levees to serve as natural barriers, is 10 to 20 land acres in area and 4- to 6-feet deep. The fish are fed a scientifically formulated diet of high-protein pellets that float on top of the water. U.S. Farm-Raised Catfish is carry the "Certified Processors" seal confirming it has met the highest standards set by The Catfish Institute.

U.S. Farm-Raised Catfish is a lean fish and an excellent source of protein. It is low in saturated (bad) fat and is a moderate source of polyunsaturated (good) fat and omega-3 fatty acids. According to a study published in the Journal of the American Medical Association, moderate fish consumption - one to two meals a week - may cut the risk of sudden cardiac death in half. The results show that any kind of fish, including U.S. Farm-Raised Catfish, can make a difference.

Kids can also download a Free 'Uncle Catfish' Coloring image below and create their own colorful 'Uncle Catfish'. Remember, Uncle CAT wants YOU to buy U.S. Farm Raised Heartland Catfish!
Disclaimer: Chris Alford Graphic Design provides all this information in good faith and makes no representations about the suitability, reliability, availability, timeliness, and accuracy of the information contained on this website for any purpose. The information contained on this website is provided "as is" without warranty of any kind. Chris Alford Graphic Design hereby disclaims all warranties and conditions with regard to this website, including all implied warranties and conditions or merchantability, fitness for a particular purpose, title and non-infringement. Expanded Disclaimer