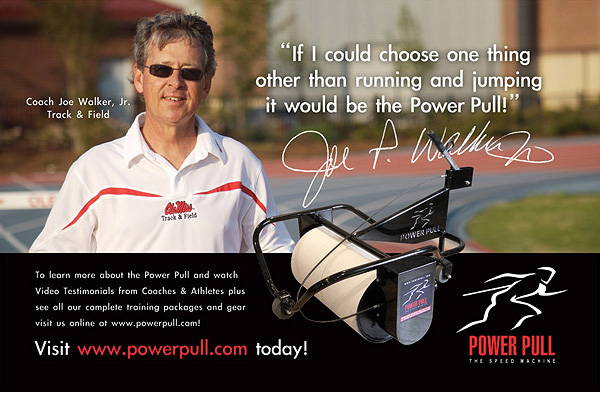 The Power Pull Magazine Ad Campaign
Sunday, January 08, 2012 | Publications , Web , eCommerce
When Power Pull requested an advertising campaign for an upcoming magazine blitz, we quickly sprinted to the finish line and designed a testimonial format style that worked perfectly for them. The sample ad shown above was featured nationwide in Track & Field Magazine.

We handled all the testimonial photography for Coach Joe Walker, Athlete Antwon Hicks, Coach Rick Woods and Lucian King, Athlete Dee Haynes, and detailed product photography for the Power Pull unit for this project.

We then designed and created a complete online presence with expanded video testimonials, statistical athlete data and online e-commerce store.


Disclaimer: Chris Alford Graphic Design provides all this information in good faith and makes no representations about the suitability, reliability, availability, timeliness, and accuracy of the information contained on this website for any purpose. The information contained on this website is provided "as is" without warranty of any kind. Chris Alford Graphic Design hereby disclaims all warranties and conditions with regard to this website, including all implied warranties and conditions or merchantability, fitness for a particular purpose, title and non-infringement. Expanded Disclaimer