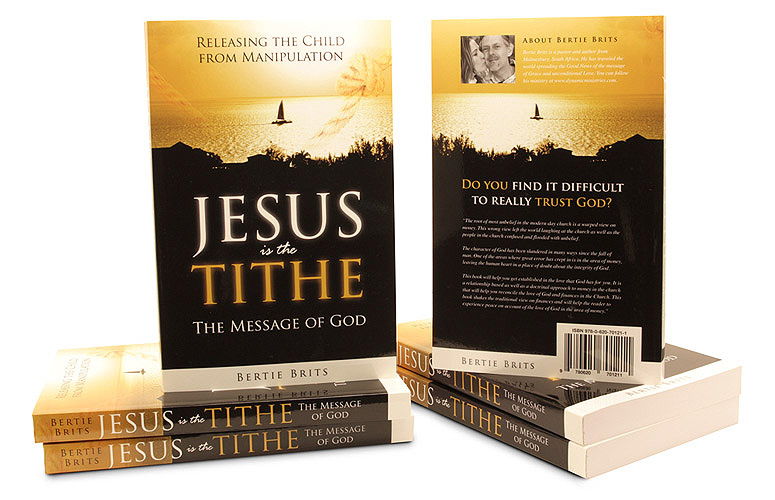 Jesus is the Tithe by Bertie Brits Cover Design
Monday, May 23, 2016 | Book , eBook
Jesus is the Tithe is a book designed to restore the Character of God. The root of most unbelief in the modern-day church is a warped view on money. This wrong view has left the church confused and flooded with unbelief. Our book spread design objective was to visually illustrate freedom and our original design accomplishes that liberating essence.

"The character of God has been slandered in many ways since the fall of man. One of the areas where great error has crept in is in the area of money, leaving the human heart in a place of doubt about the integrity of God. This book will help you get established in the love that God has for you. It is a relationship based as well as a doctrinal approach to money in the church that will help you reconcile the love of God and finances in the Church. This book shakes the traditional view on finances and will help the reader to experience peace on account of the love of God in the area of money", says Bertie Brits.

The author, Bertie Brits, is a pastor from Malmesbury, South Africa. He has traveled the world spreading the Good News of the message of Grace and unconditional Love. You can follow his ministry and get a book at www.dynamicministries.com.
Disclaimer: Chris Alford Graphic Design provides all this information in good faith and makes no representations about the suitability, reliability, availability, timeliness, and accuracy of the information contained on this website for any purpose. The information contained on this website is provided "as is" without warranty of any kind. Chris Alford Graphic Design hereby disclaims all warranties and conditions with regard to this website, including all implied warranties and conditions or merchantability, fitness for a particular purpose, title and non-infringement. Expanded Disclaimer