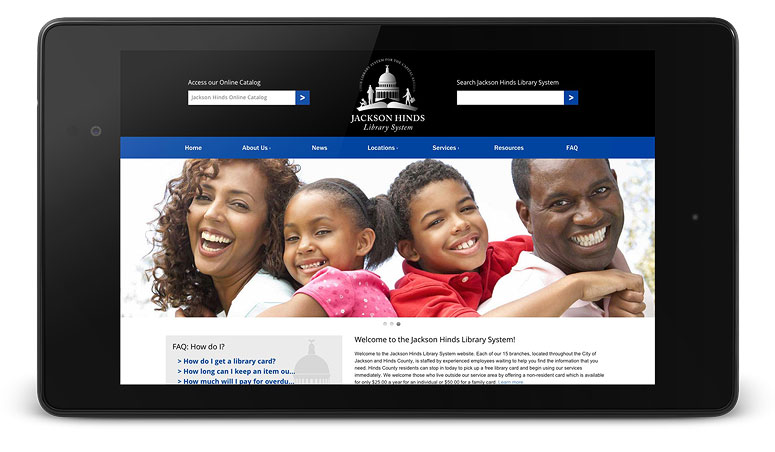 Jackson Hinds Library System Logo and Web Design
Wednesday, March 04, 2015 | Logos , Web
Executive Director, Patty Furr, of the Jackson Hinds Library System contacted us to develop a new and improved vector library logo design and custom develop a Responsive and SEO Friendly online presence to meet their growing community needs.

We generated a fantastic new capital city inspired logo design and responsive online web presence that functions perfectly with all 15 Library Branches in the Jackson Hinds County Mississippi Metro area.

"Thanks for all of your help. The Library committee was very impressed with your multiple skills in both graphic design, photography and web design. We are continuing to get rave reviews on the site. Everyone really likes it. We are quite proud of our site.", says Patty Furr, Executive Director.

If we can help your Library reach it's goals then contact Chris Alford Graphic Design today.
Disclaimer: Chris Alford Graphic Design provides all this information in good faith and makes no representations about the suitability, reliability, availability, timeliness, and accuracy of the information contained on this website for any purpose. The information contained on this website is provided "as is" without warranty of any kind. Chris Alford Graphic Design hereby disclaims all warranties and conditions with regard to this website, including all implied warranties and conditions or merchantability, fitness for a particular purpose, title and non-infringement. Expanded Disclaimer