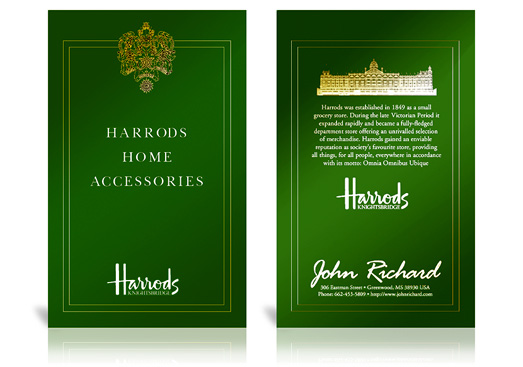 Harrods of London Home Accessories Hang Tag
Saturday, March 03, 2012 | Packaging
Harrods was established in 1849 as a small grocery store. During the late Victorian Period it expanded rapidly and became a fully-fledged department store offering an unrivalled selection of merchandise. Harrods gained an enviable reputation as society's favourite store, providing all things, for all people, everywhere in accordance with its motto: Omnia Omnibus Ubique

We successfully designed this Harrods Home Accessories Hang Tag for a Harrods and John-Richard joint partnership. Our Harrods Home Accessories hang tag design had to be pre approved by the Harrods marketing review team before entering production.

The Harrods Hang Tag design won a Gold Addy Award.
Disclaimer: Chris Alford Graphic Design provides all this information in good faith and makes no representations about the suitability, reliability, availability, timeliness, and accuracy of the information contained on this website for any purpose. The information contained on this website is provided "as is" without warranty of any kind. Chris Alford Graphic Design hereby disclaims all warranties and conditions with regard to this website, including all implied warranties and conditions or merchantability, fitness for a particular purpose, title and non-infringement. Expanded Disclaimer