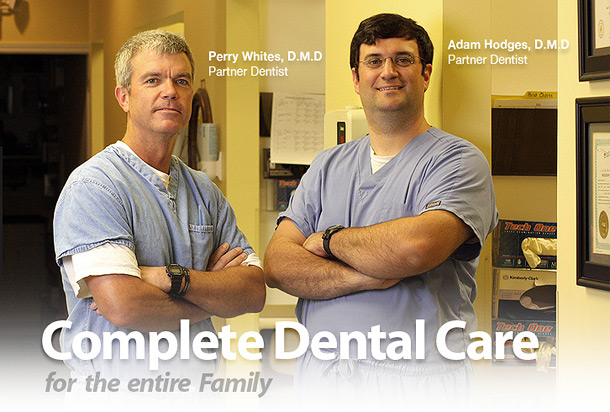 Family Dental Associates Identity Design
Sunday, June 05, 2011 | Logos , Web , Outdoor
Perry Whites D.M.D. and Adam Hodges D.M.D. of Family Dental Associates, PLLC hired us to create a new identity for their complete dental care services. Whether young or old, Family Dental Associates is able to offer you quality dental care without traveling hundreds of miles away.

We successfully designed a new logo, corporate identity, website, magazine ads, and internal / external signage. The family of teeth design is something that is instantly easy to understand. Great photography is also a key part to the overall design process and this is something we easily took care of as an added service.

The Family Dental Associates website, http://www.familydentalpllc.com, is able to be completely administered in house. They are able to control and upload all the dental before and after photos, post news and information, add/edit/update staff, detail procedures, and patient PDF document information for new patients.

Let us know if Chris Alford Graphic Design can help your professional service business.


Disclaimer: Chris Alford Graphic Design provides all this information in good faith and makes no representations about the suitability, reliability, availability, timeliness, and accuracy of the information contained on this website for any purpose. The information contained on this website is provided "as is" without warranty of any kind. Chris Alford Graphic Design hereby disclaims all warranties and conditions with regard to this website, including all implied warranties and conditions or merchantability, fitness for a particular purpose, title and non-infringement. Expanded Disclaimer