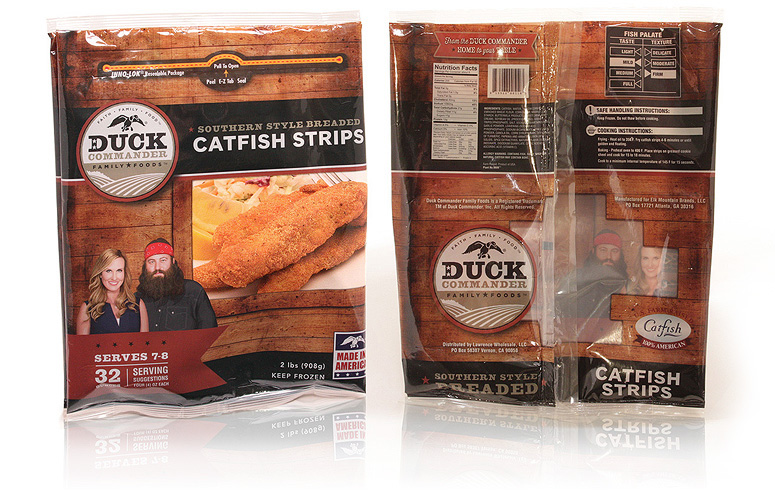 Duck Commander Foods Package Design and Photography
Monday, April 04, 2016 | Packaging , Food Styling , Photography
Chris Alford Graphic Design was hired to completely produce various Duck Commander Foods package designs that included food preparation, food styling, food photography, and final package graphic design production. Everything was done completely in-house and meets all Duck Commander and USDA guidelines.

Food Preparation and Styling
Not only are we incredible graphic designers and programmers, but we also love to cook. Taking the target inspiration from the product names, we set about producing delicious Cajun inspired, Southern Style, and other plates with trimmings that not only looked great, but seriously tasted great as well.

Food Photography
Once the catfish product plates were styled and prepared properly, we photographed them in a light box and gave the clients several options to choose from. This photo design required a very tight shot that needed to reflect the package designs primary product with slight suggestive servings that enhanced the flavor theme.

Food Package Design
This food package design project required adhering to a strict set of existing Duck Commander style guide principles, while generating a functional package design, that could be used with several products. The front package design features all the core Duck Commander required design elements while the back features all the nutritional information, cooking instructions, USDA information and transparent window. Everything came together great and Duck Commander approved it for production. Look for these in your big box retail stores. If you don't see them, be sure to ask the manager to order them.

Review our sample photos below and see the package design and food photography yourself. We just don't have enough room to show everything that we produced. If we can help get your food package projects from concepts into final production in any of the areas described above, then contact Chris Alford Graphic Design today for all your package design needs.

All Duck Commander Foods Artwork and Logos are property of their respective owners.
Disclaimer: Chris Alford Graphic Design provides all this information in good faith and makes no representations about the suitability, reliability, availability, timeliness, and accuracy of the information contained on this website for any purpose. The information contained on this website is provided "as is" without warranty of any kind. Chris Alford Graphic Design hereby disclaims all warranties and conditions with regard to this website, including all implied warranties and conditions or merchantability, fitness for a particular purpose, title and non-infringement. Expanded Disclaimer