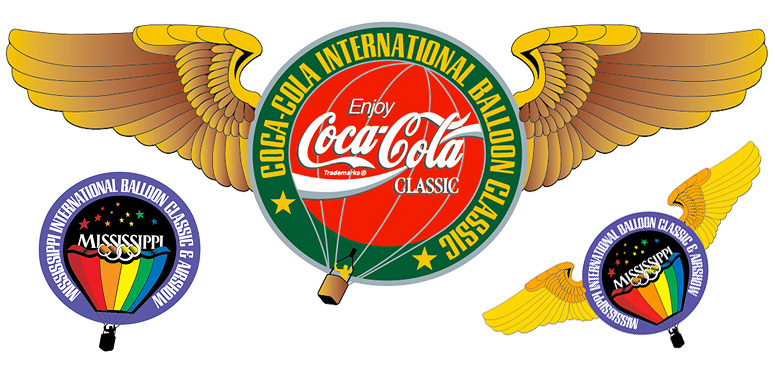 Coca Cola International Balloon Classic Design
Tuesday, March 04, 2014 | Logos
This is a bit of Coca-Cola and Mississippi Balloon Classic Trivia for you. The world famous Greenwood Mississippi balloon festival's original name wasn't the Mississippi International Balloon Classic - it was the Coca-Cola International Balloon Classic ( or Coke Classic for short ). During the original planning stages executives at Coca-Cola had agreed to sponsor the entire event and lend it's popular iconic beverage name to our local Greenwood Balloon Festival.

At the request of my employer, I designed and developed these authorized original Coca-Cola Balloon Classic identity designs and related support materials for Coca-Cola and the local Greenwood Mississippi promotion company putting on this event. Working with the promotion group I had developed very cool pin badges that were going to be given out to the balloon pilots and teams arriving from all around the world. These designs were approved by both Coca-Cola and the local promotion company.

Then as history has it - everything changed. It was sadly expressed to me that the Coca-Cola executives literally at the last minute before the event was to be announced to the public had removed themselves as the balloon event sponsor. This made all of our hard work and cool designs invalid.

We shifted gears and literally worked overnight to redesign all the artwork to the known MIssissippi International Balloon Classic and Airshow and the rest is local history. During the festivals several year run the winged logo remained the primary logo.

Disclaimer: These concept Coca-Cola logo designs were never publicly produced and I only display them now for local Greenwood, Mississippi history purposes only.
Disclaimer: Chris Alford Graphic Design provides all this information in good faith and makes no representations about the suitability, reliability, availability, timeliness, and accuracy of the information contained on this website for any purpose. The information contained on this website is provided "as is" without warranty of any kind. Chris Alford Graphic Design hereby disclaims all warranties and conditions with regard to this website, including all implied warranties and conditions or merchantability, fitness for a particular purpose, title and non-infringement. Expanded Disclaimer