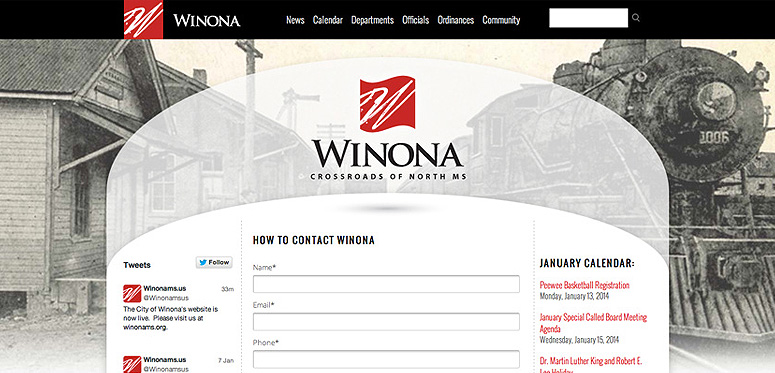 City of Winona, Mississippi Web Design
Thursday, January 16, 2014 | Web
The City of Winona, Mississippi, hired Chris Alford Graphic Design to custom design and build an easy to use online web presence. It not only needed to be beautiful and functional, but also extremely user friendly for community updates. That is exactly what CAGD delivered with its custom constructed easy to use administrator system. The new site features all the Latest News and Events, City Departments, City Officials, Ordinances, Daily Calendar, and Community Links. You can even follow the City of Winona, Mississippi, on Twitter right from the website itself.

Known as the Crossroads of North Mississippi, Winona is the only place in Mississippi where Hwy 82 intersects Hwy 51 and I-55. Winona, Mississippi, is located approximately one hour and fifteen minutes north of Jackson, Mississippi, and one hour and thirty minutes south of Memphis, Tennessee, on US I-55 interstate. Winona is the county seat of Montgomery County. The unique name of the city comes from the Sioux word, We-Noh-Nah, meaning first-born daughter.

Let us know if we can help your business, organization, or municipality reach its goals.
Disclaimer: Chris Alford Graphic Design provides all this information in good faith and makes no representations about the suitability, reliability, availability, timeliness, and accuracy of the information contained on this website for any purpose. The information contained on this website is provided "as is" without warranty of any kind. Chris Alford Graphic Design hereby disclaims all warranties and conditions with regard to this website, including all implied warranties and conditions or merchantability, fitness for a particular purpose, title and non-infringement. Expanded Disclaimer